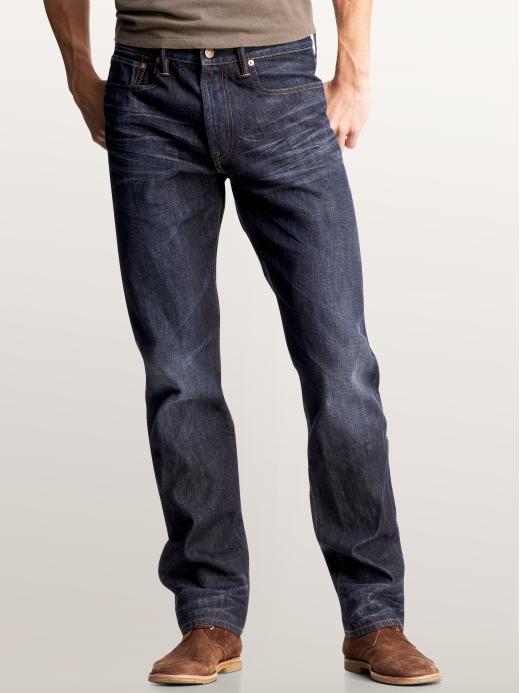 Gap Straight Fit Jeans (Dark Wash)
A staple garment is different for every man. It could be a blue button front for the gentleman with blue eyes and an office job. Perhaps the linen pant is a staple for the guy that runs the kayak check out because runs warm and loves comfort. For another, it could be a navy sport coat and khaki chinos, while another is a simple Tee. Everyone will have different wardrobe staples because every man has a different lifestyle, although, some may argue that there is one tried and true staple wardrobe for each and every fella. The jean.
If there is one item that could be argued that every man could use, it is the denim pant, but with so many choices out there, mistakes run rampant. With so many colors, fits and brands from Levis and Gap jeans to Diesel, focus is key.
Color/Wash: Typically go for a nice indigo wash with light to no distressing. No tears, no bedazzled pockets – meaning no True Religion, no crazy colored thread etc.
Avoid washes that are deep blue everywhere, but the knees. A light wash on the knees draws all your attention down and makes you look shorter. Also, there is nothing fabulous about people staring at your knees. Jeans are supposed put the focus on you, not the other way around. That is why they are such a staple.
Other colors that can be of use in your wardrobe are grey, white and black washes of denim. As long as you stay with the same rules of simplicity that I have given you for your blue jeans, this will add awesome diversity and style to your closet without making you look the fool.
Legs: The relaxed and baggy look makes you look fat and short. Unless you are an athlete with thighs that can kill, this will make you look like you are swimming in big boy pants. Instead go for these types of fits: "vintage," "straight," "relaxed skinny," "relaxed straight," "standard."
The skinny jean is for the ladies, but some brands do make "skinny" jeans that look more like a straight fit.
Boot cut is for men who wear boots. Do not wear boot cut jeans with any other shoe. In fact, the narrower the show you wear, the thinner your jean leg should be and vice versa.
Fits: Do you have a long inseam? Lucky, Seven For All Mankind, Gap online and sometimes Diesel can run as long as 36 inches on the leg.
Looking for the right size? Gap runs a bit big, Diesel, G Star Raw and William Rast run thin, but here is the best way to find out what brand is for you. Go into a department store and grab every jean that fits the color/wash, style and leg instructions that I have given you and try each one on until you find one that fits you best.